Our Approach
High Context and Low Context perspectives are attributes of different international cultures and are fundamental to Individualistic and Relational Lenses that are also, at a secondary level, often attributable to men and women across cultures.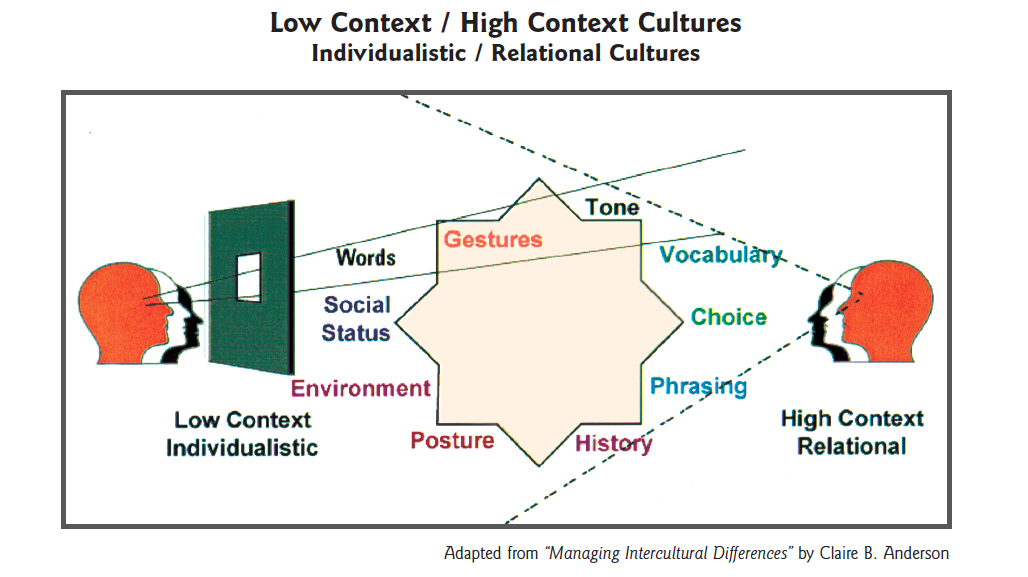 Gender Competence is the understanding and skills for effectively managing gender differences as "competencies" so that the contribution women have to make can be understood and utilized in the traditional business culture focused on skills, action, objects and results.
The RISE Model replaces the language of Masculine and Feminine with cross cultural terminology of Individualistic and Relational/Collectivist to focus on the different paradigms or lenses through which Men and Women often see the world.? These perspectives often conflict or see the other as incompetent.? When understood, the increase in productivity and innovation is exponential in unprecedented synergy.
RISE
RELATIONAL + INDIVIDUALISTIC = SYNERGY EMPOWERMENT
An example:
Individualistic lens on "Customer Focus" is "I know what's best for the customer."
Relational lens on "Customer Focus" is "I get into the shoes of the customer and look from there."
We use a combination of Brain Science understanding and Social Construction.
The Computer Model draws the picture of the layers of interaction within the framework.
Biology and Brain Science – Hardware
Individualistic and Relational Lens – Operating System
Communication Styles and Competencies – Applications/Software
Our Story
During my entrepreneurial years, that I became curious about how my way of thinking and my passion for building the business around my customers, was very different from my boss, a Madison Avenue Mad Man.  The courageous Vice President at Sun Microsystems who wanted to know "What is the Contribution Women Make that could be the Strategic Advantage in the Global Marketplace," gave me the opportunity to research what women contribute that is  invisible, unnamed, undervalued and often misinterpreted as incompetence."  Much of what I had discovered for myself, I found in the highest ranking and middle management women at Sun.  I recognized the importance of "Unmasking the Gender Effect" and eventually developing Gender Competence–understanding and skills to work with gender differences as differences in "competency."
Meet the Team
The people trained in Gender Competence® team together and have their own companies with specialties in which men and women working and relating effectively together makes a difference in many fields including:
Corporate Business, Non-Profits, Education, Peace-Making, Government, Academia
Founder & President Bonita Banducci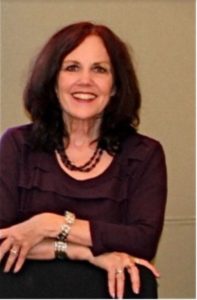 Banducci's original research for the VP of Sun Microsystems who wanted to know "What is the Contribution Women Make that could be the Strategic Advantage in the Global Marketplace," developed her work in Unmasking the Gender Effect and Gender Competence.  She has worked with companies across the country and with women and men leaders from around the world through the Global Women's Leadership Network. She teaches Gender and Engineering at Santa Clara University's Graduate Engineering Program with graduate students from around the world.
Tanya Monsef Bunger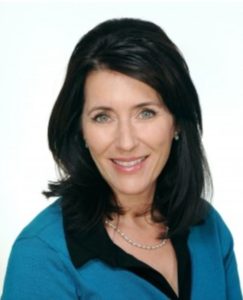 Tanya Monsef Bunger is a global business consultant and executive coach.   She is passionate about the power of leading from authenticity as a way to create harmony in the workplace and the world.
Tanya has 25+ years of success in Silicon Valley high tech, startups and non-profit businesses in the areas of finance, marketing and strategy.  She has coached and delivered programs with leaders from 40+ countries.   Her clients include senior executives and business owners who want to expand their leadership as a way to accelerate impact in their organization.
She is an Executive Professor at Santa Clara University in the Leavey School of Business, USA.  Active in active in global leadership projects, Tanya serves as: Chair of Board for Global Women's Leadership Network, Co-founder of SF Turkish Women's International Network chapter, Advisor for Turkish Women's Initiative and Program Director of the Global Fellows program at Santa Clara University.
Abha Singhvi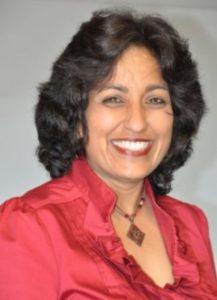 Ms. Singhvi is a Life and Organizational coach and a business consultant bringing her experience from founding two successful businesses. She is currently an adjunct professor at Santa Clara University.
She was co-founder and VP of Finance and Administration at Paperfly where she managed HR, Finance, Legal, Operations and Administration. As founder and CEO of Stratascape, she was responsible for all aspects of the business and eventually sold the company to TMP Worldwide (now Monster.com). Her experience includes coaching, sales, and recruiting as well as management and consulting.
Ms. Singhvi has been a supporter and has worked with non-profit organizations throughout her career. She is Co-founder of GWLN (Global Women Leadership Network), A board member at Maitri, an organization that supports South Asian women facing Domestic Violence issues and Arati for Girls, an India based women?s empowerment organization that focuses on the issue of female infanticide and foeticide.
She is passionate about working with founders and executive teams of startups and small businesses.
She completed her MBA in 1990 from Sacred Heart University, Fairfield, CT and her certifications in Life and Organizational coaching in 2004 from JFK University, Pleasant Hill , CA.
Dr. Amani Hasen Albakry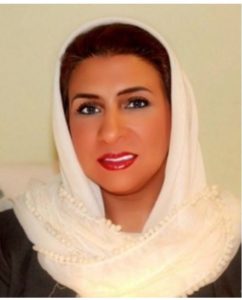 My country is making history and I am a part of that history. Like many Saudi women, I realize that my personal ambitions do not belong to me alone. They are a part of my country?s historical change from isolation, backwardness, and oppression of women to world leadership, modernity and equal rights for all.
Dr. Amani Albakry is our partner from Saudi Arabia who lived and studied in the USA. Before moving to San Jose, Ca, Dr. Albakry has worked as a General Director in Alalamiah Computer and Technology Inc., KSA. She is also a certified trainer who helped in recruiting and training hundreds of women to be able to work side-by-side with men.
In 2010, Dr. Albakry earned her MPA with honors from Notre Dame De Namur University. Amani is also an Associate Member of Sigma Beta Delta International Honor Society for Business, Management, and Administration, as well as a member of the Phi Delta Kappa International Family of Associations. In 2015, Dr. Albakry received her Doctorate degree from the University of San Francisco in Organization and Leadership (Women in Leadership). Recently, Dr. Amani Albakry joined Banducci Consulting firm, where she works as a consultant.
Rose Singer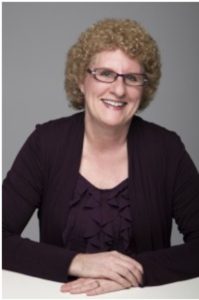 Rose Singer develops and facilitates workshops on the topics of emotional intelligence, collaboration, consulting, influence skills and change. Rose's work has taken her around the globe, working with different cultures, gender competencies and diversity dynamics.A passionate, engaging, facilitator of human potential; Rose Singer leverages her extensive experience as a manager, consultant and coach to guides clients to tap into their inner resources to effectively navigate their outer results. From a platform of trust and respect, she creates engagements that lead to personal transformation, team cohesiveness and optimal organizational impact. Her commitment is to help build healthy, vibrant workplaces where creativity, collaboration and contributions flourish.
As an ICF (International Coach Federation) Associate Certified Coach, she quickly creates safe places for clients to focus on what matters, gain clarity and develop new pathways towards success.
She is a senior lecturer at San Francisco State University where she teaches Emotional Intelligence as part of their Positive Psychology program.? Rose holds a Master of Arts degree in Management and Organizational Development from Antioch University Seattle.
She lives on the outskirts of Seattle with her husband and her lovebird, who flew into her house many years ago and spends every day vying for her heart.
Next Steps…
Call us, join us, in Realizing Planet 50/50:  Brilliant Women and Great Men in Partnership for the Fulfillment of the UN Sustainable Development Goals–by building Partnership in your own team, company, organization, and community.